The State of Indiana's eLearning Department has contracted with NBC television to provide Indiana schools with access to the NBC Learn video archives.
Teachers, staff, and students are granted free accounts with NBC Learn.
Accessing Videos While Inside UC/CC Buildings
The NBC Learn account for "Indiana Department of Education" is currently setup for IP Authentication based on the Richmond Community Schools main IP address. As long as staff and students access NBC Learn from on-campus they will be authenticated and can access all content.
Accessing Videos At Home
To ensure staff and students can access NBC Learn when they are off-campus, they will first need to access NBC Learn from a computer while on-campus, register for a personal user account, and then "Sign In" with that personal user account when at home or at other off-campus locations.
Creating an Account
Creating a personal user account is easy:
While at school, visit NBC Learn at http://archives.nbclearn.com

Choose Register Now at the top right hand corner of the screen

Enter an email address and password for user credentials, and then complete the rest of the information as required.

Upon return visits to NBC Learn, staff and students can simply Sign In with the email and the password they created.

Finding Videos
After you login to the NBC Learn Web site, use the menu items on the left side of the page to locate videos to view.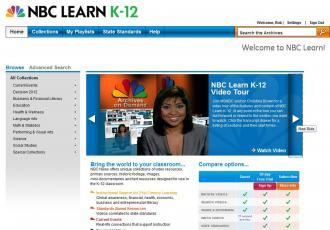 If Your Encounter An Error
If you experience problems with the videos, click HERE to access the NBC Learn troubleshooting Web site.