A Joint "State" School District
For 111 years, residents of College Corner residing in Preble County and Butler County, Ohio have joined with residents of West College Corner residing in Union County and Franklin County, Indiana to educate their children at the College Corner-Union School. The school served grades K-12 until 1972 when students in grades 9-12 were transferred to Union High School in Liberty, Indiana. In 1995, a Federal Magistrate created the Union County-College Corner Joint State School District governed by a nine person board of trustees, with Ohio and Indiana representation, who operate under the laws of the State of Indiana.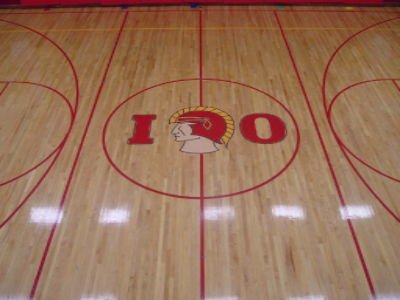 CCUS Gym Floor - Center court line situated on the state boundry
The Union County-College Corner Joint State School District is significant because it is the last of the joint state school districts in Ohio and Indiana and possibly the only such school district remaining in the United States. The College Corner-Union School is uniquely situated directly over the Ohio and Indiana state boundary with the school's gymnasium centered on that line.