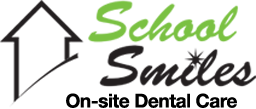 School Smiles, an on-site dental program will be coming to your school soon. If your child does not have a current dentist, please consider this opportunity. They accept Medicaid, most private insurance plans, and offer Grant Scholarship Funds for those uninsured on a first-come-first-served basis. Read the following to learn more about School Smiles:

School Smiles and its partners are national providers of on-site dental healthcare services for children, adults, service men and women and senior citizens throughout the country. School Smiles is a comprehensive dental program servicing school systems and children of all grade levels (PreK-12).
Our mission is to help improve both the overall oral health of children, as well as their educational experience by providing convenient and reliable dental services to students while at school within a safe and pleasant environment.
Our on-site staff, which consists of a licensed dentist and dental assistant, are here to provide preventive and comprehensive dental services to children. Services will be provided in a fully functional dental operatory located within the school. These services include, but are not limited to: dental exams, cleanings, x-rays, fluoride treatments, sealants, dental hygiene instructions, restorations, extractions and crowns.
Our goal is not only to reduce the rate of tooth decay in children, but to also increase the overall awareness of the importance of proper oral health and how it impacts a child's educational experience. School Smiles is being utilized at selected schools to help bring these services to all students, whose parents/guardians wish to enroll them in the program.
---
Your child should have brought home a form to request services from School Smiles. Please fill out the form and return to your child's school by December 20, 2018.
If you would like more information about the program, go to www.schoolsmiles.com or you may contact your school's nurse, Bryanne Killion at LES and CCUS or Laurie West at UCMS and UCHS.
To print out an application form, go to http://schoolsmiles.com/wp-content/uploads/2017/10/IN-REG-FORM-2016-Update.pdf.
Dates School Smiles will be providing services:
UCMS and CCUS: January 10, 2017

UCHS and LES: January 16, 2017