Union County Boys Basketball 2017-2018 Season Recap,

Written by: Cameron Sanford,
---
With a large group of senior athletes on the Union County boys' basketball team, they were looking to end their senior season with something they have had their eyes on since their freshmen year, a sectional championship. Going into the annual state tournament, the team was 17-6 and were co-champions of their conference, tying with Hagerstown, who finished 15-8 on the season. After losing an influential scorer, Logan Sanford, who was a 1,000-point scorer and leader of the team, the Patriots were often looked at as having a "rebuilding" year. With eight seniors, and five juniors making up their varsity roster, playing with one another was nothing unfamiliar.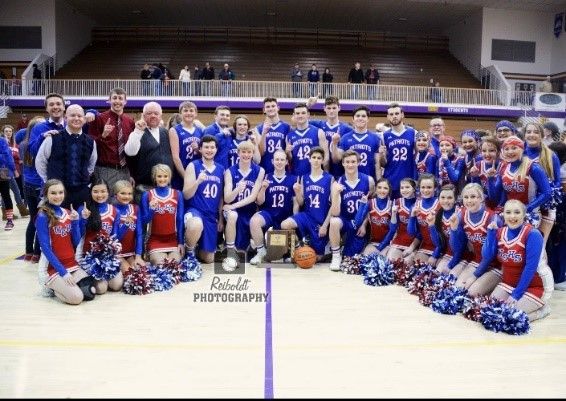 When senior Cameron Donovan was asked about the team's outstanding chemistry he explained, "We're brothers. Growing up together has made us, allowed us to understand how everyone plays at an entirely different level. The ability to play with your friends makes playing and winning so much fun." After having eight consecutive non-losing seasons, winning the majority of regular season games was almost expected of them. The thing that motivated them each and every day, was the sectional championship. In the previous eight years, the red, white, and blue boys had appeared in six sectional championship games, winning two of them (2012, 2013). Team captain, Mason Miller, when asked about the Patriots previous sectional championship appearances he said, "We have come close the past years to winning sectionals but fell short. We knew what it was like playing in the atmosphere of the championship game. Being that close helped us work harder in the off season and to grind to be on top."
The Patriot boys sat together as a team at assistant coach Roger Bowling's home to to hear who they would draw for their sectional debut in 2018. Cambridge City Lincoln Golden Eagles (11-12), a conference opponent, were their first opponent. After beating the Eagles earlier in the season 63-38, the Patriots were confident in their opening game. The Patriots arrived at the sectional-hosting gym in Hagerstown on February 27th, with a mindset of "just survive and advance." Moreover, that's exactly what they did. They led all quarters, with a final score of 61-39, led by seniors Cameron Donovan and Mason Miller with 14 points. Quickly, they were on task to scout their next opponent, Hagerstown. After having a competitive, back-and-forth victory over Hagerstown (15-8) earlier in the year, they knew it was not going to be an easy objective, especially with Hagerstown being on their home court. The Patriot boys arrived in Hagerstown once again, with the sectional championship in the back of their minds. Led again by Mason Miller, they surpassed Hagerstown with a score of 65-46. They now had it to the sectional championship game once again, but they knew they were not going to go out as they had last year, with a 54-41 lost to Northeastern. They once again lined up with Northeastern. With a composed mindset, they created their own destiny. They swiftly got a lead again Northeastern with a score of 25-11 at halftime. They did not let up there though. They finished the second half with a score of 56-32, led by Cameron Donovan, who finished with 19 points. This was the largest margin of win in Sectional 41 history.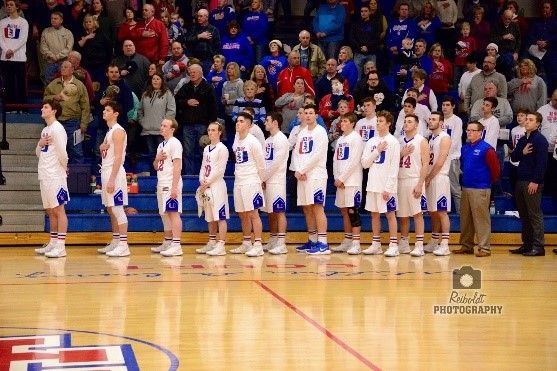 The dream they all had longed for had come true. The Patriots advanced to the regional to face Indianapolis Scecina who was 17-9 entering regionals. The Patriots put up a good fight, but fell short by a score of 56-42. The 2018 boys accompanied only five other teams who had won a sectional championship (1976, 1977, 1979, 2012, 2013). They also only accompanied two other teams who had 20-win season in Union County history. Head coach Jesse Moses also recorded his first every Sectional Championship in his first season as head coach.
Written by: Cameron Sanford